NOTE: The following article was originally discarded by it's authors, but with the recent publishing of the fascist street presence only blocks away, we feel that it should be released to the public. As Oakland continues to gentrify, we fear this will happen more and will likely escalate far beyond a few stickers and tags.
In early May of 2014, a peculiar sight was seen in West Oakland. Some graffiti scrawled on an electrical box proclaiming the words "ANTIFA ZONE" had been X'd out. Graffiti beef of course is hardly unfamiliar but what is alarming is the possibility that there was pro-fascist graffiti in a neighborhood that is still predominantly black. A block away from this electrical box, a sticker of the antifascist flag in a circle with the words "Antifaschistische Aktion" was scribbled over. Nevertheless, within a few days, the unknown antifascist vandal had repaired their tag on the box, and a new sticker covered the old one.
There are several theories could explain why "ANTIFA ZONE" was crossed out, as anyone unfamiliar with the term antifa might resent someone besides themselves proclaiming an "zone" in their neighborhood. But the sticker gave a few more clues, in that anyone who was unfamiliar with the term antifa would likely not recognize the flag logo. All graffiti and stickers that surrounded these two incidents were untouched as well, making it clear it was not a general anti-vandalism statement. With the ever-expanding gentrification of West Oakland, it couldn't be long until some sort of white nationalist moved in.
But all was quiet until a few weeks later, "ANTIFA ZONE" on the electrical box, located at 35th & Market St, was crossed out again. After this, a couple of local antifascists mobilized with a small patrol, talking to other residents about what was happening. Hundreds of flyers explaining the situation (pictured below) were distributed and many more stickers with anti-fascist messages were put up. Most people who heard about it were quite shocked that something like that could happen in West Oakland, some offered to help distribute flyers and stickers.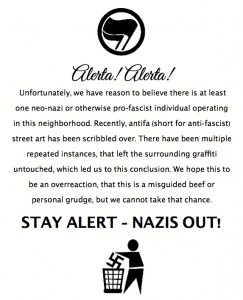 Weeks later, it once again became clear that whoever was behind this was not backing down. More and more stickers were scrapped off, antifascist ones specifically targeted, between 35th & West and 34th & Chestnut. If there was any further doubt on where this person stood politically, that it was a misunderstanding, it disappeared when a sticker that had said "No Nazis" was scribbled out to read simply "Nazis." "Good Night White Pride" stickers were scrapped off to read only the second half.
Local antifascists tried to use the stickers to track the movement of the person tearing them down, but it was not easy, and for the most part, stopped between 34th and 35th and San Pablo. Stickers at those intersections could last a day or two, and at any of the surrounding intersections, they lasted several days, sometimes weeks. Stay vigilant, tell your friends, and if you encounter this person(s), act accordingly.
Nazis Off Our Streets!