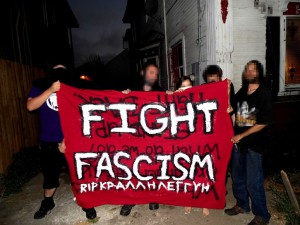 On September 18th local antifas marked the first anniversary since the murder of Killah P (stage name of Pavlos Fyssas) in Greece. He was attacked by a group of Golden Dawn members, a Greek fascist party, and was stabbed to death. Watching over the events, the police made no effort to intervene, the close ties between Golden Dawn and the Greek police never more obvious. More background on the murder can be read here.
This, of course, is not an isolated incident. Just one of countless lives stolen by the forces of fascism and white supremacy all over the globe. Whether it is at the hands of a neo-nazi, a police officer, or neighborhood watch vigilante, they are all manifestations of the same force.
Pavlos, and all the other stolen lives, live on in our hearts.